For over 20 years, Wild Spirit Wolf Sanctuary has depended on the generosity, tenacity, assiduousness, and enthusiasm of volunteers who help and support the Wild Spirit Team, and consequently our rescues.
There are many different ways to volunteer with Wild Spirit, depending on your availability, experience, abilities, and interests.
Please Note: Volunteering with Wild Spirit does not guarantee that you will have opportunities to interact with our wild rescues.
In fact, very little of what the Team does at the Sanctuary directly involves contact with our animals. Nevertheless, all of our work benefits them.
Daily tasks involve building and maintenance projects, working in our Gift Shop, providing tours to our guests, preparing food for our rescues in Wolf Kitchen, and maintaining the Sanctuary grounds throughout all seasons.
Applications are accepted on a rolling basis.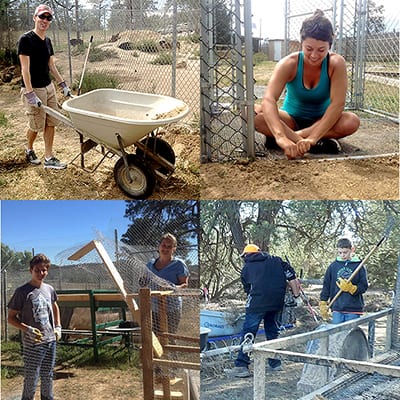 Weekend Warriors
Weekend Warriors are individuals, groups, teams, and scout troops who donate their time and efforts for a few hours, a weekend, or even longer to help with specific projects at Wild Spirit.
Past projects have included landscaping, campground clean-up, maintenance projects, and assistance with outreach events.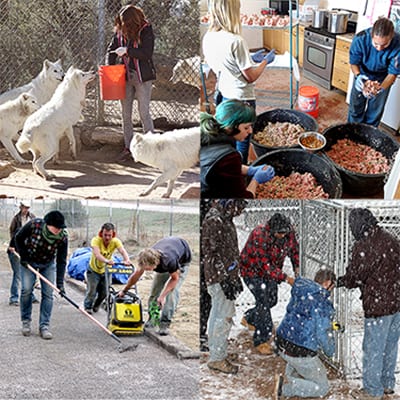 Long-Term Volunteers
Long-term volunteers are selected from a pool of applicants to live on-site for a minimum of 12 weeks, though longer is preferable.
Volunteers who are applying to assist in our Animal Care Department are required to commit to a 6-month term minimum, though applicants who can stay up to a year are preferable.
All applicants must be at least 21 years old.
To learn more and to apply, click here!
RV Campground or Administrative Volunteers
Wild Spirit Wolf Sanctuary is offering RVers the exciting opportunity to help our rescues while spending time in the "Land of Enchantment!" Live on-site in your own RV and contribute to a wonderful cause!
We are seeking administrative volunteers and campground maintenance and/or landscaping volunteers.
To apply, simply fill out the form for your desired position, and then email it to:
crystal@wildspiritwolfsanctuary.org
For Admin Volunteer Application, please click here (PDF)
For Campground Volunteer Application, please click here (PDF)