We are closed to the public until further notice.
Please take appropriate action to keep yourself and those around you safe during this difficult time.
Our staff and rescues will miss your visiting, and we all hope to see you very soon.
Stay healthy!
Saturday, June 27, 2020 Update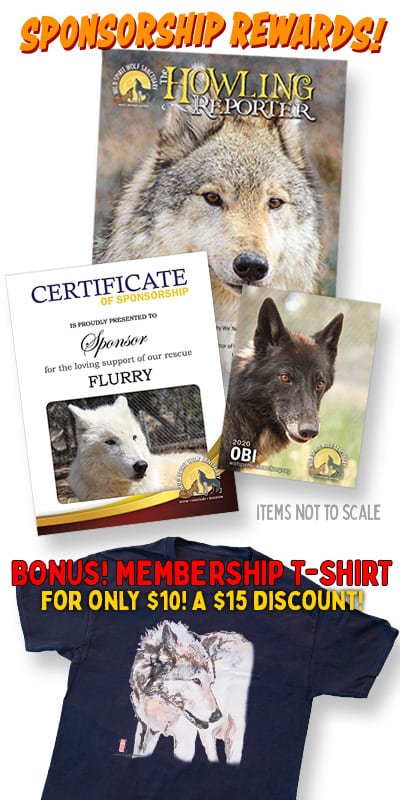 Thanks to the kindness and generosity of nearly one hundred howling supporters, both Kenai and Obi are home!
Did you know that you can sponsor Kenai, Obi, or any of our other rescues, directly by visiting our online Gift Shop? By sponsoring a rescue you will help offset the animal care costs for our critters. If every rescue had 15 sponsors the animal care budget for one year would be taken care of!
When you sponsor a rescue you will be subscribed to our bi-annual newsletter, The Howling Reporter, which is a 16-page, full-color magazine featuring articles and information about our animals, staff, and mission. Additionally, you can choose to receive a free magnet and/or sponsorship certificate featuring your sponsored rescue! As a bonus offer, you can take advantage of a significant discount on our annual Membership T-Shirt!
Tuesday, June 23, 2020 Update
Leyton and Brian left early this morning for the drive to Ohio where they're going to pick-up the newest member of our wonderful family! Wish them well on their travels!
You can donate to the rescue missions on our Rescue Missions page.
Follow us on one of our Social Media accounts for updates!
Welcome to Wild Spirit Wolf Sanctuary
Thank you so much for visiting the Wild Spirit Wolf Sanctuary website! We hope you enjoy exploring and getting to learn about us as a 501(c)(3) nonprofit dedicated to rescuing displaced, unwanted, and un-releaseable captive-bred wolves, wolf-dogs, and other related species.
Our home page features the most up-to-date announcements, Peek into the Pack blog posts, opportunities to participate in events and contests, and more!
Several different guided tours are offered throughout the year except during our annual closure in January through February. Please note that this is the only way to see our rescues. As an USDA-regulated facility, guests are not permitted to walk around the sanctuary property un-escorted. However, our well-educated and trained staff are eager to share their knowledge, experiences, and passion with guests on tour!
Explore our "How You Can Help" page if you find you've been smitten by our critters and wish to support our rescues! All proceeds from sponsorships, memberships, enrichment donations, tours, and Gift Shop sales directly support our rescues by offsetting the costs to provide high-quality food, enrichment, medical care, and habitat maintenance.
The team is always eager to welcome new members to the Wild Spirit Wolf Sanctuary Family!
Current Critter Counter
57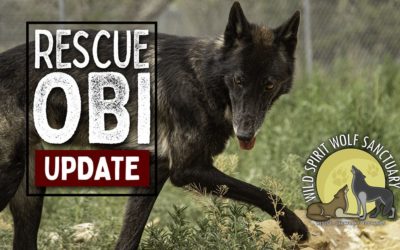 The Wild Spirit Wolf Sanctuary Team is extremely excited to officially introduce our newest rescue, wolf-dog Obi!...
Can You Sponsor a Rescue?
One of the cool rewards you get is a magnet featuring the rescue you choose to sponsor!
You can see the other rewards in our online Gift Shop.
Click the button below and select the Rescue you'd like to sponsor from the list!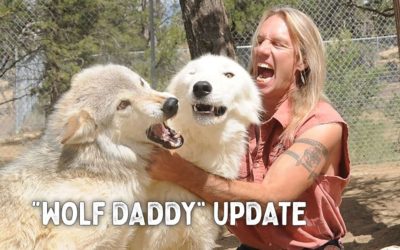 Dear Wild Spirit Readers, Please join us in celebrating Leyton J. Cougar as he takes the next step in his journey to save and support canids of all sorts! As many of you know, Leyton has stepped down from his position as one of Wild...
Please consider visiting our partners!