We are closed to the public until further notice.
Please take appropriate action to keep yourself and those around you safe during this difficult time.
Our staff and rescues will miss your visiting, and we all hope to see you very soon.
Stay healthy!
Follow us on one of our Social Media accounts for updates!
Welcome to Wild Spirit Wolf Sanctuary
Thank you so much for visiting the Wild Spirit Wolf Sanctuary website! We hope you enjoy exploring and getting to learn about us as a 501(c)(3) nonprofit dedicated to rescuing displaced, unwanted, and un-releaseable captive-bred wolves, wolf-dogs, and other related species.
Our home page features the most up-to-date announcements, Peek into the Pack blog posts, opportunities to participate in events and contests, and more!
Several different guided tours are offered throughout the year except during our annual closure in January through February. Please note that this is the only way to see our rescues. As an USDA-regulated facility, guests are not permitted to walk around the sanctuary property un-escorted. However, our well-educated and trained staff are eager to share their knowledge, experiences, and passion with guests on tour!
Explore our "How You Can Help" page if you find you've been smitten by our critters and wish to support our rescues! All proceeds from sponsorships, memberships, enrichment donations, tours, and Gift Shop sales directly support our rescues by offsetting the costs to provide high-quality food, enrichment, medical care, and habitat maintenance.
The team is always eager to welcome new members to the Wild Spirit Wolf Sanctuary Family!
Current Critter Counter
56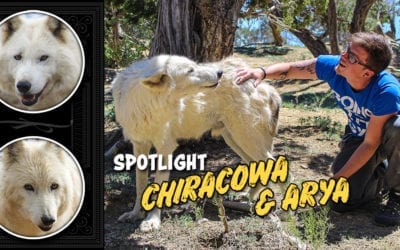 Chiracowa (a.k.a. Chira) and Arya are probably the goofiest couple that I have had the pleasure to work with since...
Can You Sponsor a Rescue?
One of the cool rewards you get is a magnet featuring the rescue you choose to sponsor!
You can see the other rewards in our online Gift Shop.
Click the button below and select the Rescue you'd like to sponsor from the list!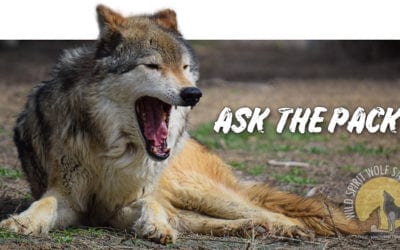 We like fielding questions about our rescues, and sometimes people want to know more about the people responsible for ensuring they're well taken care of. If you have a question about our rescues or our mission, please ask them in the...
Please consider visiting our partners!