Specialty Tours listed on this page
REQUIRE
registration at least 48 hours in advance. See specific specialty tour information for details on reserving your tour.
With the exception of Twilight Tours, all Specialty Tours are limited to 5 participants per event, to reduce the stress on some of our rescues who do not appreciate large groups of people.
Specialty Tours may occur on days/hours when we're not open to the general public, however, when you purchase any of our Specialty Tours, you also have access to our Standard, self-guided tour, if you attend on a day we are open to the general public (you may have to wait for the gift shop to open, if you're tour is an early one.)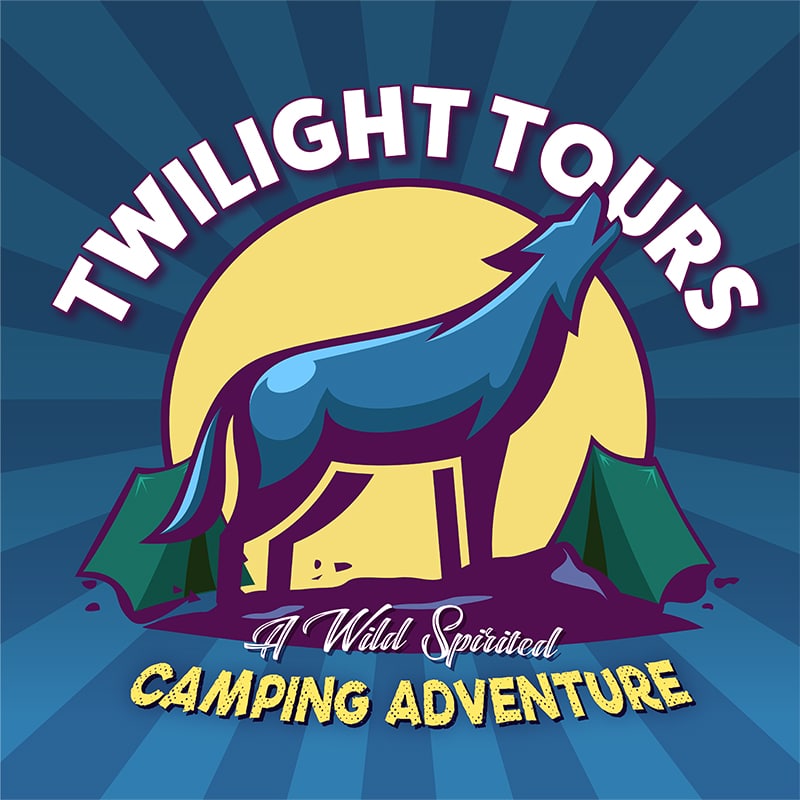 An evening tour in which guests can learn about and experience our rescues during one of their most active parts of the day! Following the tour there will be an opportunity to visit our Gift Shop before enjoying a themed discussion around the fire (weather permitting), conveniently located inside the sanctuary where guests can continue observing our animals as they rough-house, play, and sing.
In addition, our "Camping with the Wolves" package is meant to act as an extension of our "Twilight Tours" providing visitors with the opportunity to spend the night in Wild Spirit's campground, located right next to the sanctuary where you can expect to be serenaded by the songs of our rescues all through the night!
And for those looking for an added experience the following morning, we also offer the opportunity to join Wild Spirit's staff and interns on a guided Feeding Tour (purchased separately). Please note, this tour is only available to small groups and will be scheduled on a first come, first served basis.
Available most Saturdays with discussion topics listed on the booking page.
A private tour of the entire facility that allows viewing of all our species, and provides details on all of their backgrounds and histories. You will have access to viewing the animals on our Standard Tour path, along with the rest of our extensive facility, education building, lawn games, and picnic area. This tour gives you exclusive photo and video access. It will also feature in-depth discussions about the nature of rescue animals, including how stress, anxiety, and neophobia plays a role in how Wild Spirit elects to house them, pair them with companions, and how we work with them on a daily basis. We'll also have discussions on "captive rehabilitation" and other practices for fearful and anxious animals. Upon request, this tour may also include the same benefits as an Enrichment Tour, where you will help create and distribute enrichment to select animals throughout the facility.
Please be aware that the terrain in our upper compound can be challenging! People with mobility issues or very small children may have difficulty. We are in the process of making that area more accessible to the public, but it will take time!
Available most Thursdays, Fridays, Saturdays, and Sundays
2:00 PM to 3:00 PM (you may want to allow for an additional 30 minutes, this tour can run long)
Limited to 5 participants per event
$175 adults/$150 children 12 and under, seniors, and military veterans
You'll be given the opportunity to help prepare and distribute a variety of enrichment items to select animals throughout the compound. Enrichment can be anything from textures, scents, or treats, and are prepared in ways meant to challenge the animals' thinking and instinctive hunting/foraging skills. You'll be able to watch our animals explore and interact with the enrichment provided, and learn about the importance of enrichment for captive wildlife (and even your pets at home!) This tour provides a "behind the scenes" experience and includes animals not seen on our lower compound tour path.
Available most Fridays ONLY
8:30 AM to 9:30 AM
Limited to 5 participants per event
$50 adults/$35 children 12 and under, seniors, and military veterans
You'll assist in preparing food for animals in our lower compound area, which includes wolves, wolfdogs, Australian dingos, domestic dogs, foxes, and New Guinea singing dogs. After preparing the food, you'll assist our staff and interns in the feeding process for these animals. During this time, you'll learn about the importance of proper nutrition in canines, what we feed to supplement their diets in captivity, and about the hunting and eating process in the wild. At the end of the tour, you'll have the opportunity to participate in a "Yeet-Loaf" competition (a throwing competition using imitation meat loaves) to get a feel for what our Animal Caretakers have the strength to do on a daily basis.
Offered most Thursdays, Saturdays, and Sundays
8:30 AM to – 9:30 AM
Limited to 5 participants per event
$75 adults/$60 children 12 and under, seniors, and military veterans