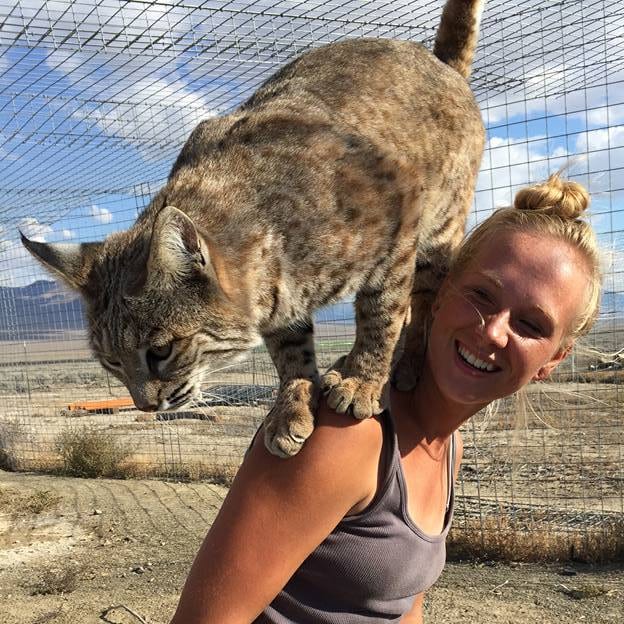 Brittany McDonald
Executive Director
Brittany first fell in love with wolves when she was just 8 years old and has been actively pursuing her dream of working with them ever since! Though she is Minnesota born and raised, her passion for wildlife has led her all over the United States where she has gained experience caring for wolves, big cats, primates, reptiles, and so many more.
As a long-time supporter of Wild Spirit, Brittany has always admired the sanctuary's dedication toward making our rescues' health and happiness our number one priority, and with her knowledge of concepts like animal health and behavior, enrichment, and operant conditioning, she's excited for the opportunity to further contribute to that philosophy!
It goes without saying that the role of Executive Director is one that encompasses many responsibilities, but as she prepares to follow in the footsteps of those that came before her, Brittany is confident about her abilities to lead the team toward continued growth that will forever aim to honor each of the "wild spirits" that call the sanctuary home.
Brian Adkins
Building and Maintenance
Brian worked as a licensed contractor in Albuquerque for 20 years, working on new construction and renovations. He moved to Candy Kitchen a few years ago. Brian enjoys being around and taking care of animals, and has 6 dogs of his own. He's responsible for taking care of an expanding list of projects in the Building & Maintenance department, and spends time with our rescue Kaya, whenever he has a chance.
Mike Budd
Building and Maintenance
Mike has been assisting our maintenance department for several years, and he personally handles many daily tasks that could otherwise fall to the wayside. Of course, our B&M team is always facing an overwhelming list of tasks, and Mike helps ensure that we are steadily accomplishing those tasks. Mike also goes on "meat-runs" for the sanctuary, meaning that he drives into Gallup or Albuquerque once a week to pick up meat donations for our rescues, without which we would not be able to survive.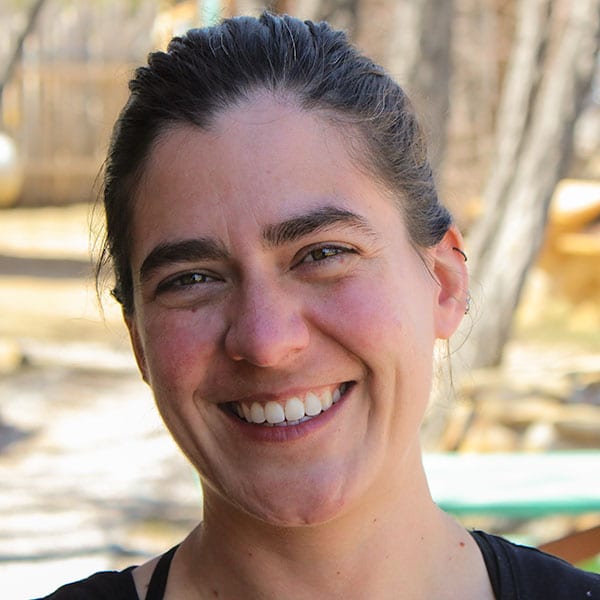 Karen Burkart Guillén
Animal Care Specialist
Karen Burkart Guillén is Wild Spirit Wolf Sanctuary's newest Animal Care Volunteer. Karen is Mexican, born and raised, with an architectural degree from the Universidad Iberoamericana, which she received in 2009.
Karen thoroughly enjoys traveling, getting to meet new people, and experiencing different cultures. A nature enthusiast, she loves to talk to plants and animals. After three years of traveling around New Zealand and living in Baja, Mexico, Karen returned to Mexico City where she worked as the Office and Project Manager for an architecture studio. After four years of being in the big city (and trapped in an office), Karen decided it was time for a big change, a change that included LOTS of nature and fewer people.
Karen came across Wild Spirit Wolf Sanctuary during a Google search for "wolf sanctuaries." It was one of the first results to come up, and Karen realized she need not continue her search—the program, the place, and the rescues were enough motivation to apply. She is thrilled to be here, and the Wild Spirit Wolf Sanctuary Team is delighted to have her!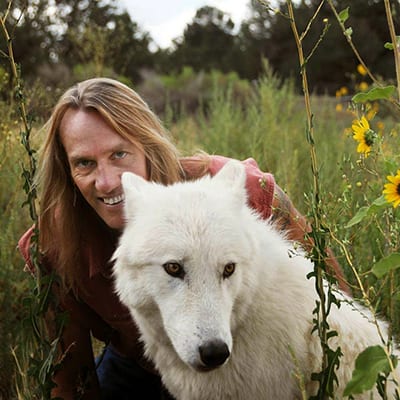 Leyton Cougar
Fundraising/Animal Care
Leyton first came to Wild Spirit as a volunteer, way back in the summer of 1996. Back then the sanctuary was called "Candy Kitchen Rescue Ranch" and it was a much smaller organization. At first, Leyton intended to volunteer once or twice a week, but he soon fell in love and began to invest as much of his time as possible into the sanctuary. For several years, Leyton worked closely with founder Jacque Evans, and in 2003 he took over as Executive Director. In 2020 Leyton decided to focus on his own business, and is now fundraising and helping with animal care.
Stephanie Grenadier
Housekeeping
Stephanie first visited Wild Spirit Wolf Sanctuary in July 2016 leading a group of ten photographers on an adventure with her husband Tim. A lifelong lover of wolves dating back to the teen reading of Jack London, encounters with wild wolves in Yosemite, and her own wild spirit, she fell in love. Shortly after their first visit, she and her husband Tim both simultaneously said, "I want to move there!" It was a long journey but they made it. Stephanie is currently doing housekeeping, which she actually enjoys, in addition to her own holistic bodywork practice and leading photography groups to Wild Spirit. She hopes to meet you here soon. "Your room will be waiting. It's how I fell in love with this place and I want it to be as inviting, amazing, and wonderful for you as it was for me!"
Jared Kain-Woods
Animal Care Specialist/Education and Outreach Specialist
Jared came to volunteer at Wild Spirit in support of his wife, Kendra, who was recently hired to complete grant work. After listening for years about her experience, Jared became intrigued and even enthusiastic about experiencing the Wild Spirit life for himself, and since arriving he has steadily fallen in love.
Jared's background is 5+ years in Renewable Energy and Energy Efficiency. He is a nationally certified HERS rater with a certificate in Renewable Energy and Energy Efficiency from Greenfield Community College. It is Jared's hope to eventually apply his knowledge to help improve the buildings and lives of everyone at the sanctuary.
Outside of work, Jared is known for enjoying memes, playing games, and adventuring to new places when time permits.
Kendra Kain-Woods
Animal Care Supervisor
Kendra was originally hired to tackle the task of pursuing a grant writing campaign to help support Wild Spirit Wolf Sanctuary's mission and goals, but, like so many others on the team, she wears many hats. Kendra helps with animal care, supports the Social Media Team, and offers editorial assistance whenever needed.
In 2020, it was decided that Kendra would become the Animal Care Supervisor, stepping in to fill the vacancy left by Rae McCue in July who had been with WSWS for over eight years. While her role has shifted, Kendra will still be a main member of the grant writing campaign for the sanctuary.
Kendra first discovered WSWS in 2016 as an animal care volunteer, and, like so many others, fell in love. After getting married in June of 2019, Kendra and her husband moved from Massachusetts to Candy Kitchen to live and work for the next several years.
A proud fur mom, Kendra is enthusiastic about training as a means for communication, respect, and trust. Her male, Orin, now recognizes over 15 cues! She's a bookworm, an avid adventurer when time permits, and a proud metal-head.
Stephanie Leitch
Gift Shop Attendant
Stephanie joined Wild Spirit Wolf Sanctuary in 2019 working in the gift shop. She moved from the Philippines and is now living in the area. Stephanie helps with inventory, customer service, and keeping our gift shop nice and tidy. Stephanie says working at Wild Spirit where everyone welcomed her and made her feel like family has been life-changing for her.
Josh McNitt
Guest Services & HR Assistant
Josh joined our Building and Maintenance department in 2017, bringing an impressive knowledge of computers and IT with him. A long-time local who briefly moved away, Josh is glad to be back in Candy Kitchen and working at WSWS, where the pack really feels like family. Thanks to his unique skills in IT and an overall handiness in many areas, Josh has proven a huge asset to WSWS that we can't imagine functioning without.
Lisa McNitt
Bookkeeper
As our bookkeeper, Lisa bravely faces the difficult task of keeping a non-profit financially alive and running. With her help, we've managed to turn our organization into one that is healthy and growing, which is not an easy accomplishment. As a long-time Candy Kitchen local, Lisa understands how to survive in our extremely remote, rural setting, and she lends that knowledge to the rest of our pack whenever needed.
Megan Murphy
Animal Care Specialist/Social Media & Outreach Coordinator
Megan Murphy has been part of the Wild Spirit Team on-and-off since the summer of 2015 when she started as an Animal Care Volunteer. Megan returned the following summer after graduating with her Bachelor's degree in Biology from Hendrix College in Arkansas, resuming her role. However, later that year and throughout 2018, Megan transitioned into her staff position as Guest Services Coordinator.
After a few long trips back-and-forth across the country to Florida for work, and most recently Utah, Megan now returns to fill the role of Social Media & Outreach Developer. Of course, with her experience, she is one of our Animal Care Specialists, as well. Megan is very happy to find herself back "home" in Candy Kitchen. She is also excited to work alongside Tim Waite, Multimedia and Outreach Developer, to ignite Wild Spirit Wolf Sanctuary's online presence into a passionate, informative, fun, and interactive experience.
Outside of work, Megan is a proud dog mom to two super cute pups: Logan and Buck.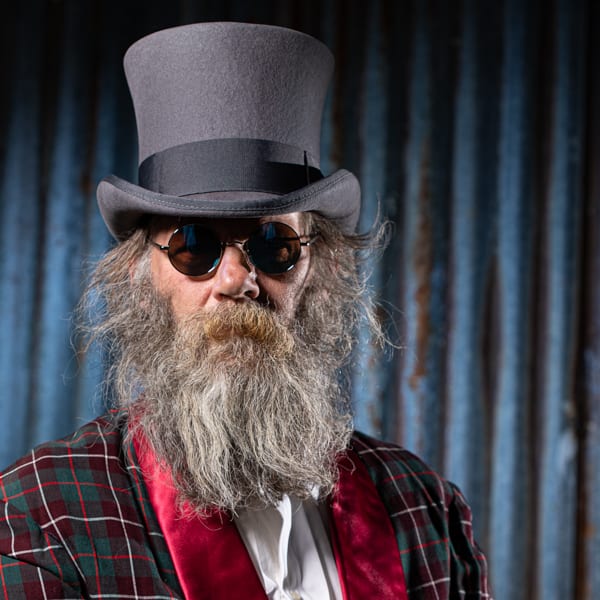 Tim Waite
Multimedia & Outreach Coordinator
Tim is responsible for most of the digital madness that happens at the sanctuary. He has worked in a number of tech-related fields, including web design and development, video production, computer networking and server management, and customer support for large broadcast news systems. He spent 13 years in the US Army, including several years overseas, in Germany and two tours in Southwest Asia.
More recently, Tim was a photography instructor at a community art center and taught courses at his own studio, both near his former home, south of Boston, MA. In fact, he and his wife Stephanie came to Wild Spirit Wolf Sanctuary for the first time in July, 2016, bringing with them ten photography students for an adventure to photograph the wolves. They returned with another group in July, 2017, and that was the end of their time in Massachusetts! They went home after that trip, closed their two successful businesses, sold their house, bought a 36′ RV, and traveled across the country to their new home in Candy Kitchen, NM, arriving in December, 2017, with two dogs and two cats.