So you're interested in becoming a long-term volunteer with Wild Spirit? Great! The Team loves to welcome enthusiastic, passionate, responsible, and hard-working people to help us provide the best care and environment for our rescues. It's all about them, after all!
Before you submit an application, please review the important information below to learn about volunteer life at Wild Spirit and what you can expect from your stay. Once you have finished and you are still eager to apply, please send an email to: wswsapplications@gmail.com, including a letter of interest and your resume.
We look forward to hearing from you!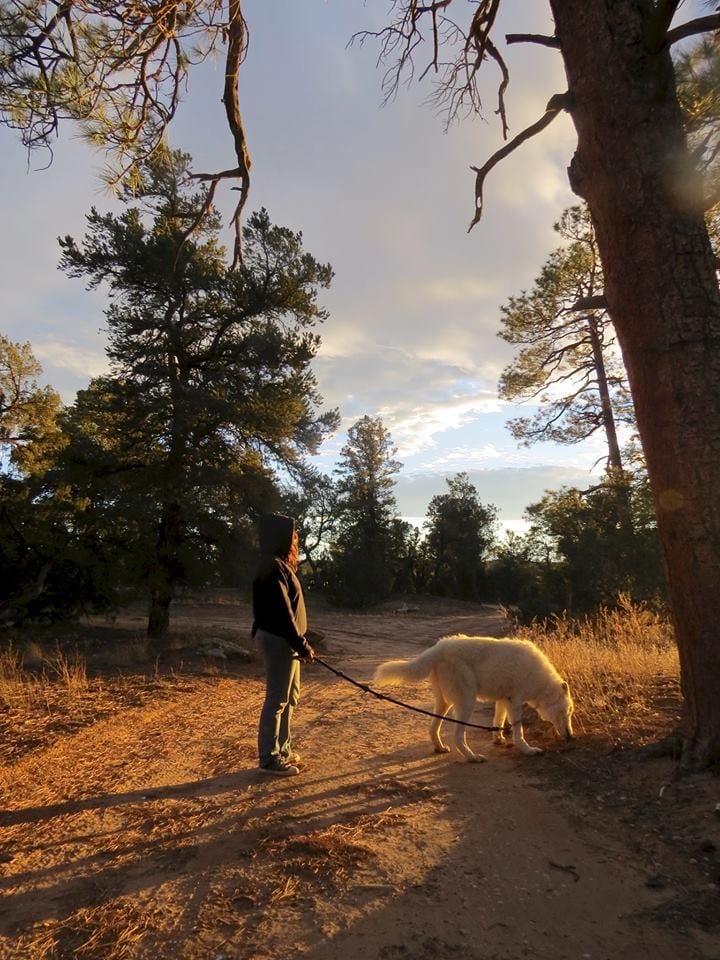 Basic Information
RULES and REGULATIONS
Volunteers must be at least 21 years old to apply. There is no drug or alcohol use permitted on Sanctuary property. Animal interaction is a privilege and not a right granted to volunteers only after extensive training. Interacting with animals without express permission will result in immediate dismissal.
LIVING ARRANGEMENTS
Our volunteer lodgings are all on-site, outside of the Sanctuary's perimeter fence. You may be housing with a roommate or living alone, if space allows. Volunteer dwellings include rustic Hogans and small single-room houses, all of which are very modest and not at all luxurious. Your dwelling may be solar-powered, wired for electricity, or potentially none of the above. None of our volunteer homes include running water and many depend on wood stoves for heat in the winter. Common space includes an extremely rustic communal kitchen and a small, attached living room. Volunteers must be prepared to spend a lot of time in close quarters with the rest of our pack. If interested, volunteers are also welcome to camp throughout their stay in our Campground!
VOLUNTEER STIPENDS
Level 1
Volunteers committing up to 6 months will receive a food stipend of $100 per month.
Wild Spirit Wolf Sanctuary will provide the Communal Kitchen with food staples, such as condiments, butter, flour, sugar, spices, coffee, beans, and rice.
Level 2
Volunteers who want to commit to an additional 3 to 6 months will have a "Stay Interview" to ensure a longer commitment is in the best interest of both parties. Once it is agreed that the volunteer can stay for a longer period, they will begin receiving $300 per month.
Level 3
For volunteers who have committed to 1 year and wish to extend their time, first a conversation will be needed to ensure a longer commitment is in the best interest of both parties. Once it is agreed that the volunteer can stay for a longer period, they will begin receiving $400 per month.
GETTING HERE
Considering how remote Wild Spirit is, our Team recommends driving to the Sanctuary and keeping a car with you. However, we are happy to provide transportation from the Albuquerque airport to the Sanctuary, if that's not feasible. While most volunteers fly into Albuquerque, if you have other travel plans we will do our best to accommodate them. Please Note: Depending on time of arrival, you may need to spend a night in a hotel. If you do stay in Albuquerque or another nearby town overnight, please let us know where and we will meet you at an agreed upon scheduled time.
Volunteering Options
ANIMAL CARE
Animal Care Volunteer applicants MUST be able to commit to a minimum of six months. No exceptions.* The majority of our volunteer applicants are interested in working with our rescues, and we completely understand! However, it's important that Animal Care Volunteer applicants know that the majority of their time will be spent doing other tasks, not working directly with the animals. They must also be prepared for extremely labor-intensive work, including heavy lifting, long hours of standing, repeated bending, and plenty of walking. Animal Care Volunteers spend most of their time in our Wolf Kitchen where meals are prepared for the rescues, which includes handling and sorting through raw meat, including game meat during hunting season. When not assigned to Wolf Kitchen responsibilities, Animal Care Volunteers assist with seasonal chores, such as weeding, providing tours to guests, and they may assist Team Members in other departments, as applicable.
*Wild Spirit requires Animal Care Volunteers to commit to a longer term as it most benefits the animals. Our rescues operate best when the Team adheres to a strict routine, which includes familiar faces. It takes some animals several weeks to a month before they start to show signs of comfort with new volunteers walking around. Furthermore, depending on the rescue, it takes a significant amount of time to develop relationships with animals. It can take several months before an animal may "warm up" to you, which could mean they ask for a chin scratch and nothing more. As an "Animals Come First" organization, we NEVER force socialization or interaction with any rescue; it is strictly on the animal's terms. If this is ignored, a caretaker could be injured, and the Team may have to dismiss the volunteer. As a sanctuary, Wild Spirit strives to provide as stress-free of a home as possible for all our rescues, and it's less stressful for the animals when the Animal Care Team does not change too often. 
MAINTENANCE 
We are always looking for volunteers who are interested in working for the animals without directly caring for them each day. Our Maintenance Department has an ever-growing list of tasks to complete, and they are always in need of volunteers who are experienced, possessing relevant skills. Tasks may include anything and everything, whether it be building repairs, property improvements, enclosure maintenance, habitat construction, vehicle repairs, general upkeep, or assisting with other projects, as needed.
ADMINISTRATIVE
As a non-profit and functioning business, we have quite a bit of administrative tasks that happen behind-the-scenes. These tasks include managing our online presence, marketing, guest and donor communications, member services, customer service, Gift Shop management, and educational outreach, to name a few. If you have applicable skills and interests that you would enjoy donating, we'd love to hear from you! There is so much that can be done for our rescues!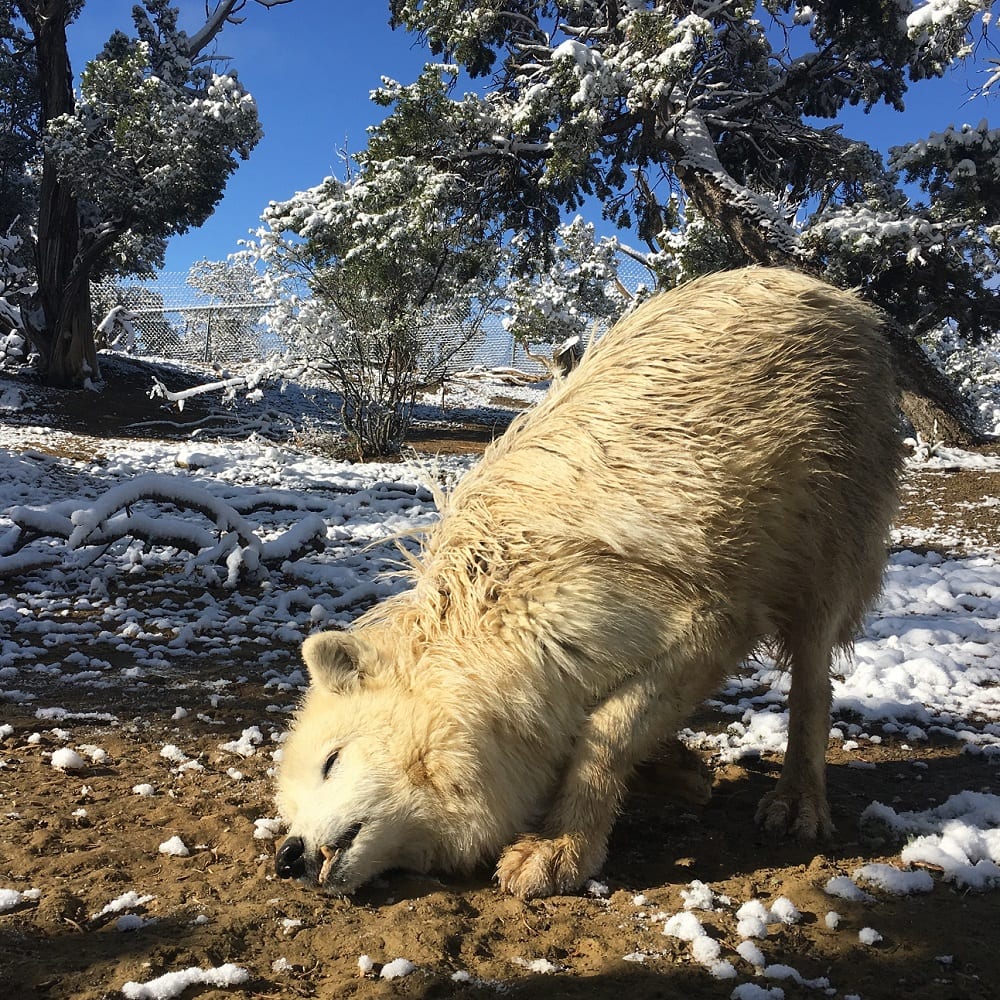 SPRING
(March – May) 
Spring is the season of layers and unexpected snow! We may experience snow as late as May, and freezing temperatures are still common, especially in the early morning and at night. However, we might also have some early summer heat and sunshine. Either way, expect a variety of weather and with it a whole lot of MUD!
With spring comes property upkeep and improvements, landscaping/grounds maintenance, and a whole lot of battling the mud to keep the daily tasks going. Animal Care happens every day no matter the weather, so be prepared to be outdoors in rain, shine, or snow. Roads may be very difficult to travel depending on the amount of rain and mud, so you may not be able to get your car out to visit town. Be prepared for some frustration there!
PACKING MUST-HAVES:
A thick blanket or sleeping bag; gloves; clothing you can layer; a raincoat; sturdy boots that can handle cold, mud, and snow; and a water bottle.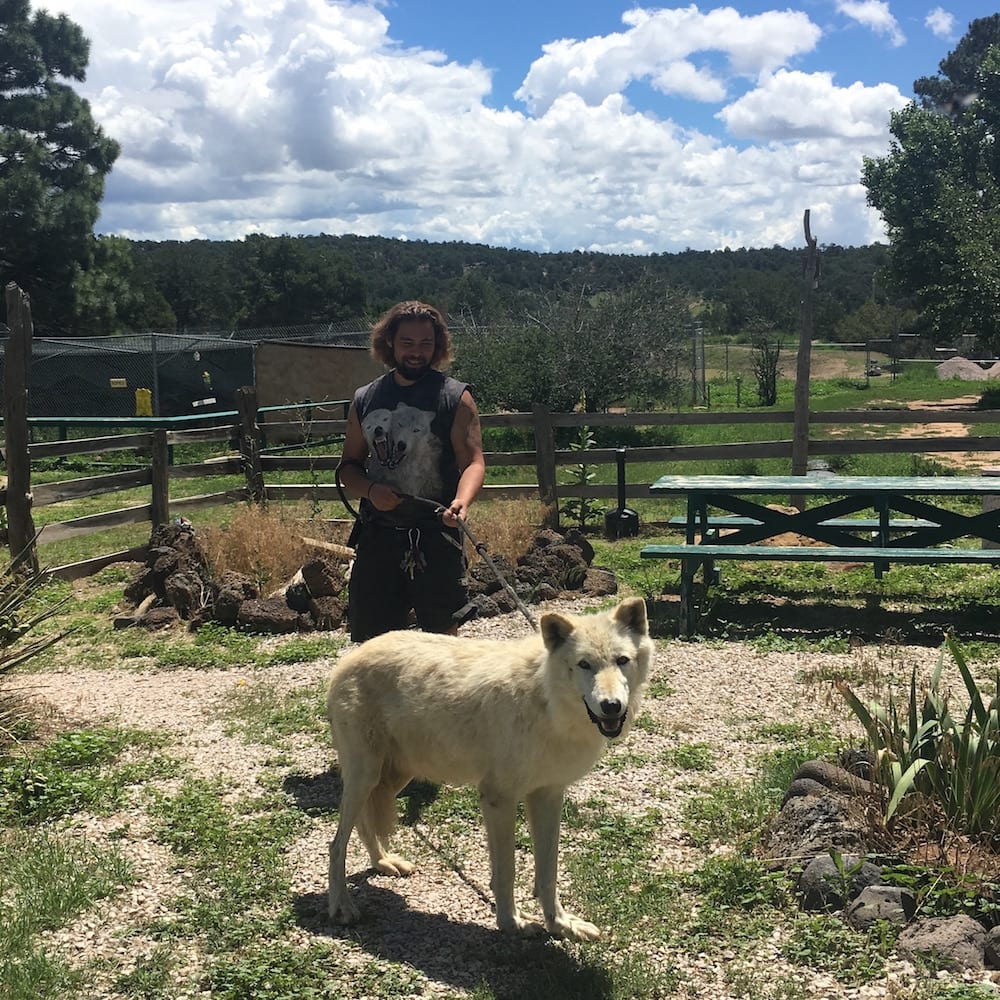 SUMMER 
(June – August)
Summer out here in the high desert can be very hot with little relief from the sun. You will need to be vigilant about protecting your skin and keeping yourself hydrated. Be prepared for "no-see-ums" (tiny biting gnats), mosquitos, and seasonal allergies.
Summer is the season for weeding and major outdoor projects. You can expect heavy manual labor, tedious weed pulling for hours on end, and all of the usual daily tasks made more challenging by the heat. This is also the busiest tour season, and sometimes more than a hundred guests will visit the sanctuary during the day. Despite the heat and hard work, we expect our volunteers to look presentable while interacting with our guests – clothes cannot be too revealing or excessively grimy.
PACKING MUST-HAVES:
Shorts, tank-tops, and flip-flops (though jeans and close-toed shoes are still required during working hours); sunscreen; sunglasses; DEET-free bug repellent; a water bottle; and a hat.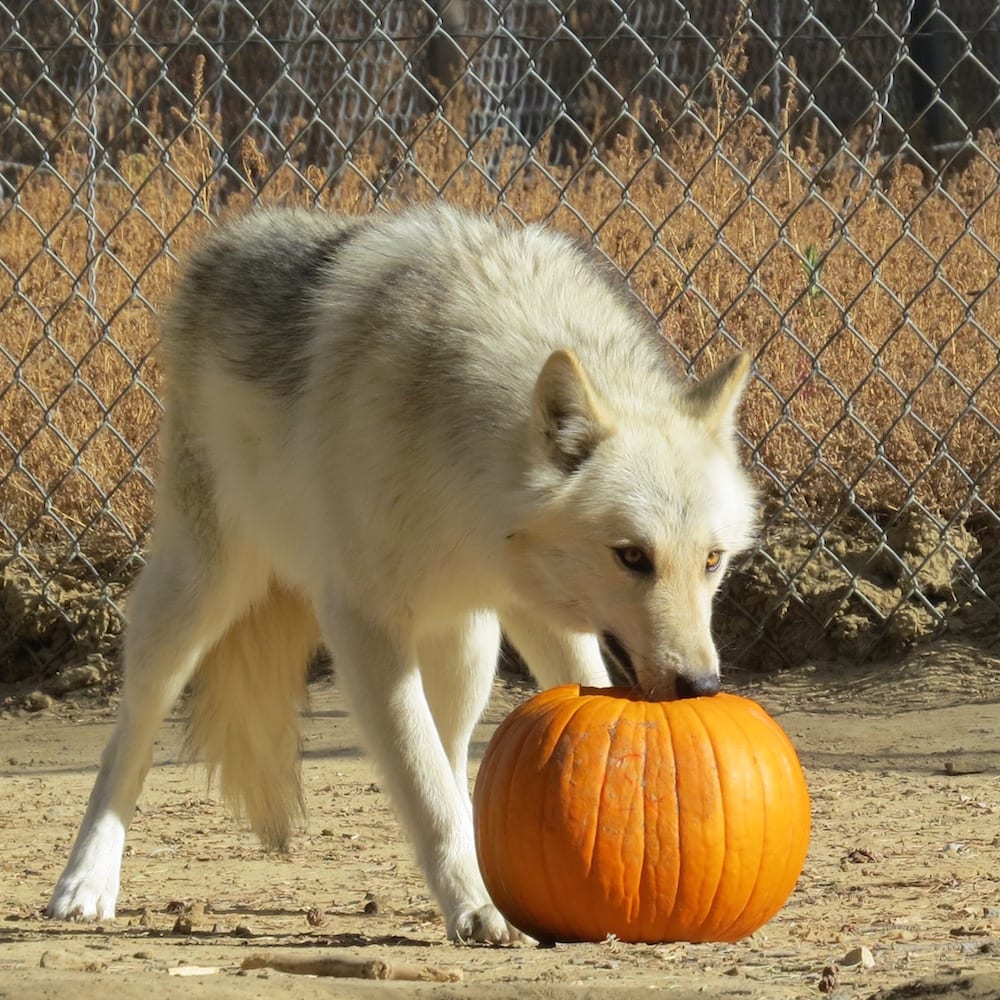 AUTUMN 
(September – October)
Although it is short, fall is typically the best season to be here, as far as the weather is concerned. The mosquitos and other biting bugs will be dwindling. The nights will be chilly, but the days are still warm, so plan to dress in layers! You can still get sunburnt but will definitely want a sweatshirt, too.
Projects vary considerably depending on the weather; however, volunteers will certainly be involved in the preparation for winter, whether it be gathering and chopping firewood, improving habitats for colder weather, or other tasks. The start of hunting season means our Wolf Kitchen will be begin to get very busy processing game meat donations in addition to our usual donations from a local food pantry – so be prepared for some blood and gore!
PACKING MUST-HAVES:
Clothing you can layer and un-layer; sunscreen; sturdy boots that can handle all sorts of weather; a warm blanket; and a water bottle.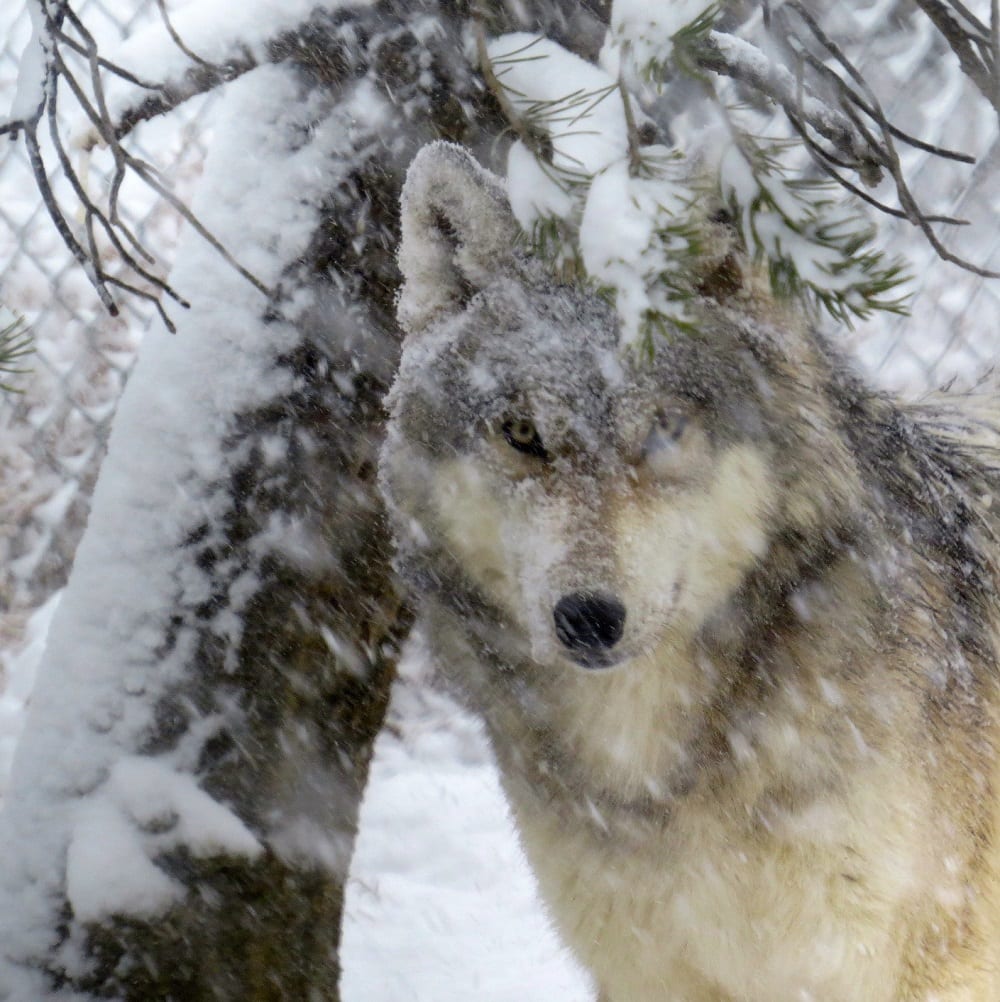 WINTER 
(November – February)
In the winter, life here at WSWS can be very tough. However, it is also the most beautiful, and the wolves are at their absolute best in the cold weather. Our daily tasks still need to get done, even in 2-3 feet of snow, and tour guests will still show up, even in the middle of a snowstorm.
Winter volunteering means being outside in the extreme cold, working with a smaller staff, and having life complicated by impassable roads and power outages. There will be a lot to do, and less hands to do it. Thanks to hunting season, our meat intake will triple, meaning a lot of time spent digging through barrels of raw meat. That being said, the wolves will be active, happier, and they will look their best in their winter coats!
PACKING MUST-HAVES:
Sweaters, sweatshirts, long-johns, heavy socks, and anything else that will keep you warm; durable, water-proof boots; books, DVDs, games, and other entertainment; several pairs of water-proof gloves; a winter hat; and a water bottle.
Tips from Past Volunteers
The Sanctuary is REALLY remote, and you'll often have to find ways to entertain yourself. We do not have cable or local entertainment options, and Internet does not extend to all volunteer housing at this time.
If a car is an option for you, bring one. Everyone needs time away now and then, and a car will help.
Making your space your own can be the difference between feeling at home here and feeling homesick. Even if it means over-packing, bring some personal items that will help you feel happy and settled in your house!
Expect to get dirty, every single day. Leave the fancy, expensive clothes and shoes at home!